I'm an ex professional photographer who enjoys costuming with the UK Garrison and Reel Icons, and happen to take a few pictures along the way. I am also in the process of building a Star Wars Astromech droid (R2-D2 style) R2-TK, as well as running my own (non-photography) business.
A bit of history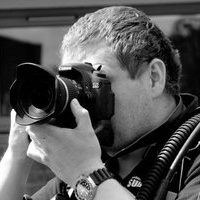 After taking a few pictures of a canoeing event, I spent my 20s working for local news (Windsor & Slough Express), and then moved up the ladder working for a London based Press Agency and Freelancing. I covered a wide range of news related subjects from the standard cheque presentation 'grip and grin' right up to overseas Royal Tours with Princess Diana, Prince Charles and other Royals. I also has a trip to Bosnia with an aid convoy and well as an amount of commercial work. I trained on film, could drive a darkroom (even in a hotel bathroom at 3am) and work to tight deadlines.
My pictures have been published in national and international publications from the tabloids to People Magazine in the US, Das Neue in Germany and Hello Magazine in the UK I have also worked commercially for such diverse clients as Pets at Home and British Gas.
Towards the end of 1999 I decided to go to university and pursue a different career path and although my photography took a backseat it never really vanished.
Present Day
2017 saw me join the UK Garrison staring with building a classic Stormtrooper costume, quickly followed by a Scout trooper, both cleared to 501st standards and Judge Dredd(2012) cleared with the Reel Icons.
I am lucky in so much that my brief insight into the experience of costume building together with my experience as a photographer allows me to combine the two and produce images that seem to go down well with costumers and the public alike. I am now part of the UK Garrison PR team, taking pictures of UKG costumers at the various events we attend around the UK. I aim for quality rather than quantity, and try to bring my professional eye to a very crowded environment, at least when it comes to costume photographers.
I've had the privilege of meeting some stunning photographers in the costuming world who I admire and try to emulate from time to time, and I thank them for their guidance and friendship.
Costuming and Cosplay is intense and addictive, with a stunning range of costumes that would not look out of place on a film set, Indeed the UK Garrison use screen accurate references to guide the costumers.
I am often seen out and about at events with my trusty Canon 200mm f1.8 a lens that allows me to produce interesting and unusually shallow depth of field images, which saves me time having to tweak the final image in Lightroom. If you see me out and about, please say Hi!!
Using my pictures
All my images are copyrighted to me. That means you cannot use them without my permission. They are NOT public domain images. However I am quite happy for you to use and share my pictures over social media and non-commercial websites as long as they are not mis-represented, and you credit me as the photographer. If you wish to use any of my images for any other purpose, either professional or commercial then please contact me before you do so - copyright law in the UK is quite clear and easy to enforce for illegal use of images.